Common Vestibular Disorders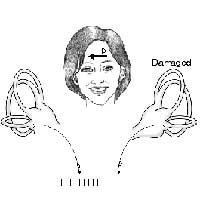 Vestibular disorders are illnesses that affect the inner ear causing balance problems. Vertigo and dizziness are the most common symptom and regular attacks of extreme vertigo can increase the chance that you will be injured when you lose your balance and fall. The hearing is rarely affected in that it is unusual to go deaf, but disturbances such as tinnitus are more likely in people with balance related inner ear problems and Meniere's disease is associated with temporary hearing loss during attacks.
The Most Common Chronic Vestibular Disorder
Many people who have a vestibular disorder are diagnosed with a complex sounding problem – benign paroxysmal positional vertigo (BPPV). Ear specialists treat BPPV in about a fifth of all their patients and the risk of developing this type of vestibular disorder increases with age. It is most common in people over 65 and incidence rises sharply as people enter their 70s. Estimating the exact number of people affected is difficult as mild cases may be explained away as just a few dizzy spells but it is BPPV is thought to develop in between 10 and 65 people per every one hundred thousand of the population.
BPPV occurs worldwide and affects people of all racial groups. European and Japanese data estimates that benign paroxysmal positional vertigo causes nearly 10% of all chronic vertigo.
The condition is a chronic one that is thought to result from the accumulation of debris inside one of the vestibular canals within the posterior semicircular canal system. Position of the head affects the way these particles move around in the inner ear – so looking up suddenly, or turning round can be enough to provoke a few minutes of intense vertigo and nausea.
Labyrinthitis
Labyrinthitis is another vestibular disorder that affects many people but it tends to be an acute problem rather than a chronic one. It occurs when the labyrinth in the inner ear becomes inflamed, usually because of a viral infection. Most people have experienced the feeling of sudden dizziness from time to time, particularly when they were feeling generally under the weather at the time. It is particularly common after a bad cold or a dose of flu. The most likely explanation for this is that the viral infection has caused inflammation at this site in the inner ear, causing short episodes of vertigo. This condition goes by several different names – labyrinthitis or viral labyrinthitis, or vestibular neuritis.
In mild cases, a few days rest is enough to clear up the problem but in more severe cases, the labyrinthitis may take up to 3 weeks to resolve, causing people to take time off work because getting up and moving around makes the dizziness much worse, and driving is not advised.
Meniere's Disease
This is caused by a pressure in the inner ear, which builds up to a threshold level that then triggers an attack of extreme vertigo and nausea, often result in vomiting. This can be a progressive condition – it gets worse over time and leads to a significant loss in quality of life. People who have Meniere's disease often fear going out in public, as an attack can strike without warning, making them appear to be drunk.
Treatment for Vestibular Disorders
Whatever the cause of vertigo, taking drugs that are also prescribed or used for travel sickness can help. These are useful in Meniere's disease but therapy also includes a low salt diet and diuretics to lower the blood pressure and the pressure in the inner ear.
Specific treatments are available for BPPV – the main therapy is canalith repositioning. The particles of debris inside the ear are termed canaliths and moving them out of the posterior semi circular canal can help ease symptoms. This is done by a trained professional, who directs the patient to copy specific upper body and head movements. These have been worked out very carefully to move the debris but to avoid injuring the neck – the most common procedures are the Epley manoeuvre and the Semont manoeuvre. Follow up treatments and exercises are recommended – these include the Brandt-Daroff exercises, which involve rotating your position between lying and sitting and turning your head in a specific pattern.
You might also like...