Who Was Miller Reese Hutchison?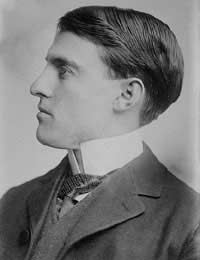 Miller Reese Hutchison was an American inventor who was one of the pioneering engineers in the field of hearing aid development. Born in Alabama in August 1876, Hutchison was fascinated by engineering from a very early age. As a child he admired the work of Thomas Edison and his childhood ambition was to become an engineer and to work with Edison. His early schooling in the 1890s to his university days at the Alabama Polytechnical Institute were fuelled by his goal to get ready for working as Edison's chief engineer.
When he was still at college, he toured some engineering centres with his father and met Edison for the first time. Apparently, Hutchison was not overwhelmed by meeting his hero – he looked him directly in the eye and told Edison that one day, the two would work together and Hutchison would be Edison's engineer.
Early Success as an Inventor
During his time at college and university, Hutchison was an avid inventor. He produced his first hearing aid in the mid 1890s, and called it the Akoulathon. His interest in developing this device was to help a friend of his, Lyman Gould, who had had Scarlet fever as a child and had suffered severe hearing loss. Hutchison used the technology invented by Alexander Graham Bell, who developed the early telephones, and modified it to make an electronic hearing aid.
The first hearing aids were very big but Hutchison designed a portable version in the early part of the 20th century. His fame spread rapidly and Queen Alexandra, the Danish wife of King Edward VII invited him to the King's coronation in 1902 to thank him for supplying her with one of the portable Akoulathon hearing aids. Alexandra had great difficulty with her hearing, as did several members of her family, possibly because of a genetic susceptibility.
Refining the Hearing Aids
Although the invention of the hearing aid was a great achievement, and was very impressive for people at the time, the early designs were far from perfect. Hutchison experimented with several different methods of converting sound to signals that could be picked up by someone with hearing loss and produced the Akou-massage and the Akoulalion. These were more effective in people with more serious hearing impairment as they amplified the sound waves into stronger vibrations. Both types of hearing aid were used extensively in America and further afield in Europe, in deaf schools.
Hutchison's Invention Portfolio
In addition to the hearing aid, Hutchison also invented the klaxon horn, the first electronic warning horn used on cars in the increasingly busy streets of New York where he lived during his later life. He used three of these klaxon horns on a limousine that he had built to incorporate all of his new inventions, including an intercom system that he could use to speak to his chauffeur without opening the dividing panel in the car. It was one of the first cars with electric headlights and that also had interior lights that came on when he opened the door. His connection with British royalty also continued and his company made a klaxon for the royal car, gold plated, of course.
Hutchison also expanded into inventions relevant to sea and air travel. He designed the first tachometer that could give an accurate reading of the speed of a steam ship, whether it was going forwards or was in reverse. Later in life, after his son died in an aeroplane accident, Hutchison developed the first oxygen sensor for use by a pilot to reduce the amount of carbon monoxide produced during air travel.
Achieving his Childhood Ambition
In his thirties, Hutchison achieved his childhood dream and became chief engineer for Thomas Edison between 1912 and 1918. During his time with Edison, Hutchison made the first telephone call from the USA to Europe – an address that was recorded and that still exists today. He was also a major driving force behind the appointment of Edison as the US Naval Consulting Board President, an organisation that reviewed inventions that could be useful for American defence.
You might also like...