What Has Sea Sickness Got to Do With the Ear?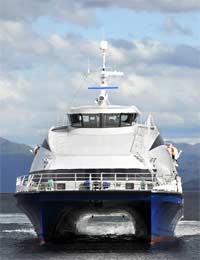 Getting car sick, air sick or sea sick makes you feel very unwell but it is nothing really to do with the stomach, although it might seem that way at the time. Motion sickness, the generic term used to describe all forms of travel sickness, or feeling sick because of fairground rides and theme park rides, is actually an ear problem.
As well as providing us with the sense of hearing, the ear is also responsible for our balance and our sense of where we are in space. It does this by having motion sensors that are set off by the movement of the fluid in the labyrinth in the inner ear. When we are travelling forwards, this fluid travels forward with us at the same speed. Our eyes tell us we are moving forward and, when the eyes and ears agree, all is well.
However, you have probably noticed that when you are in a train or bus that has been moving forward at speed for some time, and then it slows down to a stop, it can feel as if you are still edging forwards. This is because the fluid is still telling your inner ear sensors that you are moving.
An Imbalance Between Eyes and Ears
That temporary imbalance is not really a problem – its a bit like an optical illusion. Even though we move the body when we walk or run, and the inner ear fluid is mixed up quite a bit, this doesn't cause a problem either. The eyes tell us that we are walking or running, and so do the deep internal body position sensors.
However, when we get into a boat, the brain has no control over the motion that it experiences. You can stand still on the deck of a small boat while the boat tosses and turns in a choppy sea. If you remain on deck and look at the horizon, this might help the eyes to tell the brain that all is well but if you are below deck, trying to read a map, the body is in real trouble. The ears detect a lot of motion, as do the deep tissue receptors, but the eyes are trying to remain still enough to read. Movement occurs horizontally and vertically at the same time and this internal conflict sets off all sorts of neurotransmitters in the brain.
This strange mixture of nerve signals and neurotransmitter release makes the brain sick, literally. It responds by sending signals down the nerves to the stomach that something is seriously wrong – and the well-known feelings of nausea begin and, sooner or later, the stomach empties during vomiting.
Mal de Mer
Sea sickness has been known for centuries and it is also known that, after a few days, even the worst sailor starts to get 'sea legs'. Their brain adjusts to the motion of the boat or ship and they start to feel better. However, even very experienced professional sailors can still get sick in a bad storm, as the motion completely overcomes them.
Even more strange is the illness that has afflicted people who have returned from long sea voyages. Its not so common now as people tend to use aeroplanes to travel the world. But a hundred years ago, people did travel to the USA and Canada by ship. Although they got used to the motion of the ship during the voyage, and stopped being sea sick, some would find they started being sick and feeling ill again when they got off the ship. The same sort of imbalance between their inner ear and their body occurred once the ground stayed still again. Being sea sick was given the French term 'mal de Mer' and sickness that occurred on returning to land was called 'mal' d'embarquement'.
EAR HELP IS FOR SALE.
This website is for sale [more info].
You might also like...