Labyrinthitis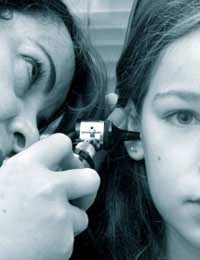 Inside of the inner ear is a complex maze of tiny passages that are all connected and filled with fluid; this is called the labyrinth.The purpose of the labyrinth is to help us achieve balance, adjust to motion and is involved in hearing function.The fluid within the channels sends signals to the brain and allows us to effectively manage movement, telling us when to turn, in which direction, how fast and how far.When the inner ear and labyrinth become inflamed or infected, labyrinthitis develops.
Causes Of Labyrinthitis
Normally this disorder is caused by a viral infection, after a cold or the mumps for example. More seriously, a bacterial infection is to blame, which will need specific treatment by your GP. Other causes of this condition included injury and trauma to the ear, head and neck, and your doctor may require some scanning procedures to rule out more serious injury.Long term alcohol abuse and prolonged or excessive use of certain medications have also been blamed for some occurrences of labyrinthitis.
Signs And Symptoms Of Labyrinthitis
The most common symptoms experienced with this condition are dizziness and vertigo, or feelings of spinning. These occurrences can then trigger nausea, vomiting, visual disturbances and an inability to balance correctly.Sufferers of labyrinthitis have also reported tinnitus, headaches and light-headedness also.Labyrinthitis causes the person to feel unsteady, unsure of their surroundings and that either they or their environment is moving.
Sufferers are likely to experience many of these symptoms and they can last for a short period, come in bouts or, unusually, can continue for some time.Some sufferers report that they experience these symptoms periodically on a long-term basis and that their quality of life can be seriously affected.
Treatment Options
Often, the body's own natural defence mechanism, the immune system, will fight and beat the infection on it's own, and the symptoms will be the only part of the illness needing treatment.Pain relief is normally required for headaches and to reduce fever brought on by the infection, along with medications to reduce sickness and dizziness, which will normally be prescribed by your GP.
Fluids will be needed to remain hydrated, but these should probably be taken little and often, especially if nausea and vomiting are being experienced.Bed rest will normally be required initially, in a cool and darkened place, with some relaxation techniques such as meditation, soft music or massage to allow the body to relax.Speak to your GP about the recommended exercise plans aimed at reducing the symptoms of labyrinthitis as these have been designed by professionals specifically targeted at managing the associated symptoms.
Avoidance of stimulants such as nicotine, caffeine and alcohol is strongly advised and sufferers should never attempt to drive or operate machinery if dizziness and vertigo are apparent.Often, your GP will refer for tests to rule out other serious illnesses if there is no apparent cause for the dizziness and vertigo such as a previous illness or injury.
Labyrinthitis can be a very distressing disorder for the sufferer and the associated symptoms can significantly alter a person's quality of life.
You might also like...