Large Vestibular Aqueduct Syndrome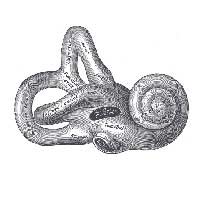 A recent discovery and diagnosis, large vestibular aqueduct syndrome is a term given when certain parts of the anatomy of the ear become enlarged. As it is such a new diagnosis, there is a lot of research and explorations being carried out by experts in order to fully understand this condition.
What Exactly Is It?
Connecting the inner ear to the cranial cavity (an area within the base of the skull) is a canal called the vestibular aqueduct. Running through this channel is a fluid filled tube, or duct, that continues on to a collection sac. In the instance of large vestibular aqueduct syndrome, the structures of the tube and sac become enlarged. If this occurs, there is potential for the fluid contained in the tube to flow back into the hearing structures causing problems.
Why Does It Occur?
As research continues, experts now believe this condition develops in early childhood as the structures involved continue to develop and grow until around 4 years of age, leaving them more vulnerable to damage.It is thought that a head injury, sudden changes in atmospheric pressures or as a result of fluctuations in the pressure of cerebrospinal fluid, such as during exertion, may cause the condition to cause deafness or hearing loss.As research is still in its infancy, experts are still unsure of its exact cause though they are exploring the possibility of a chromosomal cause.
Unfortunately, it can only be diagnosed using a CT (computerised tomography) scan of the base of the skull, something that is very costly and not readily available as a general diagnostic tool. During this scan, the enlargement can be seen and measured against the normal size of these structures.
Symptoms of Large Vestibular Aqueduct Syndrome
As a type of sensorineural hearing loss, the most obvious symptom is hearing loss. The degree of hearing loss experienced varies from person to person, and unfortunately total deafness is common.
Treatment Options
Unless total deafness is experienced, hearing aids can provide some relief for sufferers, though regular hearing tests to check for deterioration will be required.Up to now, there are no indications for surgery to try and reduce the enlargement of the structures, but as experts carry on learning about this condition, there may be potential to develop this idea in the future.
Until research can provide more answers to this condition, education and participation in research projects are likely to be suggested to help find out more about this condition.As this condition is not fully understood and is so new in being discovered, there are some audiologists who are not fully aware of its presence or symptoms, so collecting data regarding prevalence, diagnosis etc are difficult to obtain and true figures are still unknown, though it is so far thought to be relatively uncommon.
Large vestibular aqueduct syndrome is a relatively new condition that continues to be researched in order to help experts understand, diagnose and treat. Research will continue until understanding is gained, and, thanks to modern scanning technologies, this disorder can now be explored more fully.
You might also like...