Drugs to Prevent Noise-induced Hearing Loss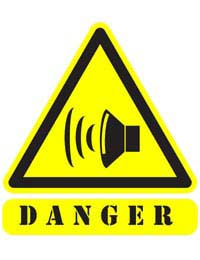 Being exposed to a very loud noise can induce so much damage to the delicate tissues of the ears that hearing loss is severe and instant. Longer exposure to very high levels of noise, such as through work or listening to a music player through head phones at excessive volume can also cause noise-related deafness. Until very recently, both types of hearing problems were thought to be irreversible but new research suggests that drugs could be used to restore some of the hearing.
Around 5 per cent of the global population is at risk of noise-related hearing damage, which is a massive number of people. These include people who work in the army, navy or other military who are exposed to gun fire or explosions, mining workers, people who work near to aircraft noise and construction and factory workers. Although hearing aids and more technical treatments such as cochlear implants can help, having drug treatment that could be given during or after noise exposure that would limit or repair damage to the ear would represent a considerable advance.
What is the New Drug to Prevent Hearing Loss?
So far it doesn't have a very user friendly name, as it is still in the early stages of being tested. The drug adenosine amine congener – called ADAC for short – attaches to the A1 adenosine receptor. The amount of these receptors in cell membranes in the inner ear change after exposure to loud noise, so have long been implicated in noise-related hearing damage. Exposure to loud sounds is related to loss of the A1 receptor and loss of the delicate hair cells that line the ear canal and transmit information to the brain about vibrations picked up by the ear.
Testing in Progress
The new drug has so far only been tested in rats but it seems to show very promising results. It significantly reduces the number of hairs cells that are lost after exposure to loud noise, and the earlier it is given the better. If clinical trials show equally promising results, the best time to give the drug is within 6 hours of exposure to a loud noise such as an explosion. After 24 hours, giving the drug can still help, but it is not as effective. Probably the most useful method of giving the drug will involve regular injections over a 5 day period, starting as soon after the noise exposure as possible.
The Next Stage
Like all drugs, ADAC will now need to be tested in different phases of clinical trials in humans. First, volunteers who are healthy will be given the drug to make sure that it doesn't have any very severe toxic or adverse effects. After these Phase I trials, phase II studies will find the best dose and timing to use and will reveal exactly the extent to which the drug can help reduce hearing loss. Finally, larger phase III trials will be required to test the drug in people who have been exposed to ear-splitting noise, to see if it can reduce the damage to their hearing in the short and long term.
You might also like...
I want to know where I can get a simple ear masker,white noise for my left ear. I have one for the right ear but when I went to concord hospital to get another one they said they no longer make them. is this correct? I do not need hearing aid I just want a white noise masker. thankyou.jenny rose.
bub
- 15-Jan-13 @ 3:32 AM