Ear Injections for Meniere's Disease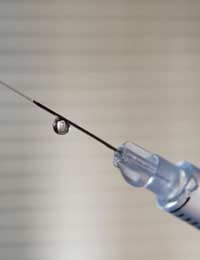 If you have Meniere's disease, you experience attacks of distressing dizzy spells and vertigo that make you completely disorientated. It is not uncommon to lose your balance during an attack, or to feel extremely sick, or even to vomit. The attacks come on without warning and can last a couple of hours. In between attacks there may be no symptoms, but people are so terrified that they will have another attack, they may be unwilling to go about their normal activities.
The symptoms mimic being very drunk, which adds to the embarrassment of people with the condition and means that they are not treated as sympathetically as they should be.
What do we Know About Meniere's Disease?
The simple answer is 'not a great deal'. The underlying cause of the condition has not yet been identified but the most believed theories are that an imbalance of fluid pressure between different parts of the inner ear is responsible. Because the basis of the disease is not known, it is difficult to develop a specific treatment. As a result, doctors use a range of treatments and it is a matter of discussion which treatment an individual person affected by Meniere's disease will have.
Treatment Options during an Attack
Treatment focuses on two strategies. The first is to treat the attack while it is happening to reduce the symptoms. The most common therapies are drugs; antihistamines and a drug called prochlorperazine. They help to reduce the sensation of vertigo and they treat nausea and act as an anti-emetic to stop you being sick.
If the drugs help, you will be given these on prescription but they will only help once an attack has started. They also have a range of side effects, particularly prochlorperazine, and if you have frequent attacks, these can become troublesome. In some people, treatment causes extreme tiredness, and you have to sleep. In others it causes muscle stimulation, which leads to tics and other abnormal movements, which can increase the embarrassment.
Preventative Treatment
The second strategy is to try to reduce the frequency of Meniere's disease attacks. A wide range of options is available, from changing your diet to having surgery.
Usually, people are given the option of trying the least severe treatments first. Although there is not very hard evidence to back it up, reducing the amount of salt in your diet seems to help a lot of people. Your doctor may also suggest avoiding foods that can act as triggers for migraine headaches, as these may also set off an attack of Meniere's.
Physical therapy can also be helpful. This needs to be done by a specialist and involves putting your head in specific positions and then moving it suddenly as your therapist tells you. The idea behind this is to clear out debris in the inner ear, within the vestibular canals, which may trigger an attack.
Ear injections for Meniere's Disease
Research has shown that ear injections of gentamycin, an antibiotic, can treat Meniere's disease effectively by destroying the part of the inner ear that is causing the sensations of dizziness and vertigo. The injection is done through the ear drum and into the inner ear, so it has to be placed there carefully by someone used to doing the treatment. This type of ear injection is often called destructive surgery, but it rarely involves an actual operation.
This form of treatment is only suitable for people whose hearing loss is already quite significant, as it usually results in further hearing loss in the ear that is treated.
Surgery for Meniere's Disease
More research is currently going on to find out how the ear injections can be improved and different drugs are being trailed and compared to gentamycin. It is hoped that this will reduce the number of people who eventually need extensive inner ear surgery to try to reduce the frequency of their attacks.
The surgery aims to insert tiny tubes between the different parts of the inner ear, to allow the pressure to equalise more easily. This type of surgery, referred to as non-destructive is more extensive surgery but it does not destroy the hearing apparatus in the ear. It is therefore much more suitable for people with Meniere's disease who still have reasonably good hearing, and don't want to lose it.
Dealing with Meniere's Disease
From embarrassing symptoms that limit social activity to difficult treatment choices, Meniere's can be difficult to deal with. It is not surprising that those affected can feel isolated, stressed, anxious and even depressed. Having counselling and getting support from various UK-based Meniere's disease groups can help, and discussing the treatment options with people going through the same thing can be useful.
You might also like...