My Ears Really Were Burning: A Case Study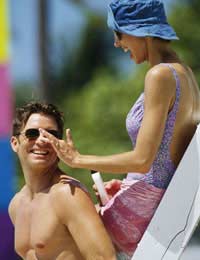 While his wife Sue loves to sunbathe on holiday Rob prefers to go exploring, so they generally book holidays somewhere hot and rent a large villa with a pool surrounded by plenty of interesting things to do. "Sue has always been a sun worshipper – she likes having a tan and although she knows all the facts about skin cancer, she still spends lots of time toasting herself on holiday and even goes for top up tans at a sun bed at our local salon," says Rob.
Since last year though, Rob's usual nagging about Sue's sunbathing habit has become something of an embarrassment for him. "We went to Tenerife in early May and, for some reason, I didn't think it was too hot at that time of year – there was a breeze off the sea where we were and the cooling effect of that made me believe this even more. So, I got stupid and after years of telling my wife that she should be more careful in the sun, I got the only case of sunburn that needed hospital treatment. I won't be living it down in a hurry," he grins.
What Causes Sunburn?
The light of the Sun contain two types of ultraviolet rays – UVA and UVB. When these rays fall on the skin, the cells produce a chemical to try to protect the DNA from the damage that ultraviolet light can do. This chemical is melanin, which is a brown pigment – which is why you get a tan in the Sun. The problem is that melanin can't stop the damage completely and when the DNA is damaged, this causes the cell and therefore the skin to age quicker – and it can increase the risk of developing skin cancer. Sun burn is more serious damage to the upper layers of the skin, although really severe sunburn can affect the lower layers to – it is not really that much different from any skin burn and it can produce the same pain and problems, as Rob found out to his cost.
A Walk on the Beach
"We had been out to eat every night for the first week of the holiday and I was having a 'fat day' as my wife would say, so I decided to go for an 8 mile walk on the beach. It was a lovely morning, I wasn't too hot and I really enjoyed walking at the edge of the waves. I walked up to a favourite spot that we had found the previous week and felt really relaxed," remembers Rob.
A Sun Lotion Omission
Although he had put plenty of sun screen on his arms and legs, Rob had not thought to put any on his ears. "I had changed my hairstyle three months before and this was the first time I had gone on holiday with short hair. Before my hair covered my ears completely, so it never occurred to me to put any sun lotion on my ears!" he says.
Rob didn't realise it during his walk but the Sun was quite strong, particularly as he returned around midday, the part of the day when the Sun is at its height. "I didn't notice anything at first – we had a bottle of wine with lunch and I felt a bit of a warm glow, but thought that was the alcohol," laughs Rob.
Serious Ear Sunburn
At 4am the next morning, Rob was not laughing; in fact he was having a serious sense of humour failure. "I woke up with incredibly painful ears. There is a saying that if someone is talking about you, it makes it feel as though your ears are burning, but mine were – literally," he says.Rob felt quite ill with the pain and his wife became really worried when he started vomiting. "I was in a real state and it didn't help when I looked in the mirror and saw that the tops of my ears were blazing red and blistered. The right one had started to ooze and peel, it was horrible," he shudders.
Hospital Treatment
At 7am, the couple were in the local hospital, where Rob had to have special dressings on his ears, antibiotics and hydration therapy. "The combination of sunburn, a bit of sunstroke, drinking alcohol and midday and then vomiting had made me very dehydrated as well, so I was not well at all," he says.
Thankfully, Rob's ears did heal but the experience completely ruined the second week of the couple's holiday. "I won't be going anywhere on holiday without factor 50 sun lotion on my ears and a wide brimmed hat – I certainly learned that the hard way," he grins.
You might also like...