I Have Meniere's Disease: A Case Study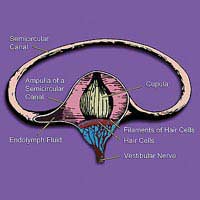 At the age of 45, George is enjoying reasonable success in a second career – as a freelance blogger. "I earn nowhere near what I did, but at least I can work, and I do put some money into the household expenses each month," he says. Fifteen years ago, George was diagnosed with Meniere's disease after a series of distressing attacks that he originally thought were severe migraines.
"I don't think you ever learn to cope with Meniere's, but you can live with it and there are many ways to reduce its impact on your life. Having a supportive wife and family helps enormously – I don't know how people manage without people around them to help," he says.
Meniere's Diagnosis
George graduated from London University when he was 22 and moved into a position in retail management. "I love working with people and I joined up to a management training program and worked hard for three years, being appointed as a manager in the Bristol area after that. When I moved to Bristol to live, I met my wife Alison, and we married on my 27th birthday," says George.
Two years later, their lives were going very well. George had just been promoted and Alison was pregnant with their first child, but suffering terribly from morning sickness. "I had a couple of funny turns too – we joked that I was getting morning sickness too. But I put it down to nothing much, and we had the excitement, stress and hard work of looking after baby Jacob, so I didn't really think about what were probably my first 'attacks'," says George.
When Jacob was a few months old, George went to work as usual, but collapsed in the office. "I felt terribly dizzy and sick and I just couldn't get up. I was rushed to hospital but recovered and just felt really tired. They kept me in overnight, and I tried to laugh it off, but one of the doctors questioned me closely about if I had ever had any unexplained dizziness before. When I admitted that I had, he set up some tests – nothing showed up. There was no physiological explanation, they ruled out a tumour, nerve problems, and an infection. So, all that was left was suspected Meniere's Disease," explains George.
What is Meniere's Disease?
Really, just a collection of symptoms that seem to get worse over time. Those affected have problem with the fluid balance in the inner ear and can suffer acute attacks that are a cross between vertigo and sea sickness, but when they are standing or sitting or even lying perfectly still. Having a diet too rich in salt makes it worse, as does alcohol and smoking. "The first thing I did was read up about Meniere's and cut out all of those things – I also stopped driving as I felt an attack could happen at any moment," says George.
The unpredictability of Meniere's is one of the most disabling aspects of this chronic disease. "As time went on, I would have clusters of attacks over a few days, but then nothing for weeks – but the thought that I might have an attack at any time was very limiting. I had to give up my job but I couldn't really be left in charge of two small children," says George. Alison resumed her teaching job after having their daughter Victoria and George's mum came over during the day to become full-time nanny.
"It was the only way we could cope – I was not working, Alison was the breadwinner, I could look after the children, but it wasn't safe for me to do it alone, in case I collapsed and couldn't get up. When an attack did strike, all I could do was lie on the floor in the bathroom and stare at the pattern on the bath panel. Otherwise, I would vomit constantly," he explains. At other times, attacks are less severe but do affect his hearing, causing hearing loss and tinnitus. "I would be afraid not to hear one of the children calling in an emergency," he adds.
Treating Meniere's
Under the care of a specialist, George has been following a low-salt diet devised in the USA, which has helped to stabilise him. This involves keeping his salt intake the same every day and very low – to as close to 2g as he can manage. "I also have taken a calcium channel blocker and have anti-emetics for bad attacks but there is no quick or guaranteed treatment. Working at home has helped me feel more useful and, using a computer doesn't make things worse – you just have to carry on regardless!" says George.
You might also like...