Why Hearing Tests Are Important for Diabetics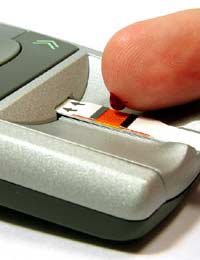 Most people who have diabetes realise that it is important to get their eyesight checked regularly. The imbalance of blood sugar that can happen in diabetes often damages the delicate structures of the retina, causing a condition known as diabetic retinopathy. This can cause vision loss as fluid builds up within the layers of the retina. If the central visual area, the macula, is affected, central blindness can develop.
Diabetes and Hearing Loss
But what about hearing in diabetics? Are people with diabetes at any higher risk of hearing loss than people whose blood sugar remains normal? According to a recent study published in America, diabetics are about twice as likely to suffer hearing loss as they get older. The mechanisms responsible are not yet fully understood but medical experts agree that people diagnosed with either type 1 diabetes or type 2, the late onset form that generally appears in middle age, should keep up to date with hearing tests as well as eye checkups.
Impact of Hearing Impairment on Diabetics
The research that looked at the proportion of diabetics who developed hearing problems as they got older also examined some of the effects of hearing loss on their daily lives. Their findings agreed with other studies that showed that a loss of hearing can lead to difficulty coping both with diabetes as a health condition, and with life generally. People who start to lose their hearing can become irritable and negative, life seems to be a greater effort and chronic tiredness, depression and stress are not uncommon. Increasing deafness can also make it more difficult for someone with diabetes to hold down their usual job, even though they have learned to integrate their diabetes treatment into their daily routine very well prior to losing their hearing.
Genetic Link between Diabetes and Deafness
Other research has uncovered an interesting link between the two conditions. A type of maternally inherited deafness and diabetes has been identified that is passed on from a mother to her children through a defect in the DNA in her mitochondria. These tiny cell structures exist outside the nucleus and have their own DNA. There are not many genes that affect health on mitochondrial DNA but one particular gene is associated with a non-insulin dependent form of diabetes that also causes sensorineural deafness.
The condition is only passed down from a mother to her children because mitochondria only come from the egg – the male sperm injects its DNA into the nucleus of the egg during fertilisation and its mitochondria remain separate from the fertilised egg.
Sudden Deafness Might be a Sign of Diabetes
Although diabetes is the underlying condition that leads to deafness, the diabetes itself may not be diagnosed. Some older people find that they suddenly become very hard of hearing on one side for no obvious reason. Research that has looked at people that have sudden loss of hearing in one ear has found that as many as 16% of them have undiagnosed diabetes. These people also tended to have higher blood pressure, high cholesterol and obesity.
The evidence for the link between diabetes and hearing loss seems to be growing and the sensible advice is to keep a check on your hearing through telephone or online hearing tests, particularly if you are either a known diabetic, or you have some of the risk factors for type 2 diabetes. These include being over 40, being overweight, being female and having a sedentary lifestyle. You might also think about the findings of yet more research – that losing 7% of your body weight and doing 30 minutes of exercise just 5 times a week can prevent type 2 diabetes from developing. This sort of lifestyle change can also help reduce heart attack risk and, it could mean better ear health too.
You might also like...
My son was admitted to hospital with acute ottis media, mastoiditis in left ear.He was scheduled for surgery the following morning to drill the mastoid bone and flush out the infection but his eardrum burst during the night, the operation was cancelled, we were told that the way forward was to bombard his system with antibiotics, he was administered iv augmentin continuously for 3 days and then discharged being advised to take co-amoxiclav tablets 500mg+ 125mg one three times a day, paracetemol tablets 500mg one or two every four to six hours, diclofenac tablets 50 mg one three times a day. About six weeks later my son began experiencing dizzy spells, imbalance and complaining that he was in pain when subjected to loud noise. Over several years now and despite many hospital consultations and the use of white noise generators my sons condition is unaltered apart from the fact that there have been several occasions when he has collapsed when exposed to loud noise. My son has been informed that his condition is hyperacusis with tinnitus and that he must learn to live with it. Is it at all possible that my sons condition could have been caused by the over administration of antibiotics several years ago ?
Zac
- 14-Aug-12 @ 5:15 PM
Its not just deafness that diabetics need to be aware of but tinnitus too. I had it slightly for a long time but since being diagnosed as a type 2 diabetic it has become worse. There may not be a connection but I suspect there is.
blue
- 9-Dec-11 @ 11:21 PM