War Can Cause Deafness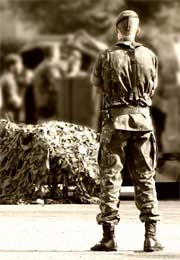 One of the main factors that cause hearing damage is loud noise. Any prolonged exposure to sounds louder than 85 decibels at work is prohibited in the UK and employers must take steps to make sure their employees have suitable ear protection. Short exposure to sounds much louder than this can cause sudden damage to the inner ear, causing immediate hearing damage or even deafness.
Since an explosion or round of gunfire nearby can measure around 140 decibels, it is only to be expected that soldiers and other military personnel who are engaged in war are at risk of suffering damage to their hearing. A recent examination of just over 1250 troops returning from a tour in Afghanistan showed that over 850 of them showed signs of significant hearing damage when they were given hearing tests. Just over 400 seemed to have severe hearing problems, including tinnitus and partial deafness.
Effects of Deafness in War
A soldier who has sustained hearing damage in combat will not only be affected for the rest of his or her life – the lack of hearing will also prevent that soldier from further active service. In a war zone, it is important to be able to use all your senses to know exactly what is going on around you – and to hear orders and instructions from colleagues and those in charge of the battle plan. There have been cases of civilians being shot dead for not responding to shouted instructions in several wars in recent years – their deafness was only realised when it was too late.
Preventing Deafness in War
It is not possible to ensure that soldiers are always a safe distance away from explosions – war zones are chaotic and explosions can occur without warning. Wearing heavy duty ear plugs is one answer but this is not the ideal solution for soldiers who need to share information with colleagues and who must still listen to instructions that might mean the difference between life and death.
One development that the British Army is looking into for soldiers in Afghanistan is to use ear plugs that prevent hearing damage but that have inbuilt microphones to enable soldiers to communicate with each other. There would still be some loss of awareness of generally what was happening as outside noise would be reduced, but this may be a necessary compromise to prevent more soldiers sustaining permanent hearing loss.
Getting Help with Treatment for Hearing Loss
Soldiers who have permanent deafness or serious hearing loss used not to be eligible for much help from the government when they came back from war. A ridiculous rule had been adopted years ago – in the 1950s – that said soldiers disabled by deafness as a result of war would only get priority treatment for their deafness if they got a disability pension that was linked in with their disability. Many service veterans do not get full pensions and also could not afford private medical care to obtain better, digital hearing aids and were having to wait around two years to obtain hearing aids.
In 2007, pressure on the government forced change. Since then, military personnel who have been engaged in active service and who have suffered deafness or hearing damage as a direct result, are eligible for priority treatment under the NHS.
Why it is Still a Struggle
Despite the change in the rules, some soldiers are still finding difficulty with getting early treatment. Some health authorities and NHS Trusts are slow to catch up on the changes that have come into operation and still turn away soldiers, putting them on the standard waiting lists. Cases have to be taken up by the Service Personnel and Veterans Agency before the health authorities will act. Having hearing problems does not make the communication between unresponsive healthcare professionals and administrators any easier.
If you find yourself in this position, having a letter from the Service Personnel and Veterans Agency can help, as can a letter from your own GP. This should clearly state that your hearing loss is directly connected with your military service.
You might also like...