Living with a Cochlear Implant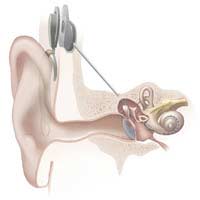 Until she was 29, Ellie was able to hear perfectly. As the mother of two young children she was still working part-time as a receptionist for a local firm of solicitors and played an active role in running aerobics classes in her spare time. "When Sophie, my eldest child started school it was great meeting the other mums and chatting at the school, waiting for them all to finish for the day," remembers Ellie. During Sophie's second term, one of her classmates got mumps and was off school. "I didn't really think anything of it. Both my children were fully vaccinated, so I wasn't worried," says Ellie.
Struck Down With Mumps
Unfortunately, Ellie forgot to worry about herself and did not make the connection at first when she became very ill a couple of weeks later. "My neck and throat swelled up and I felt like I was going to die," she says. Ellie was so ill she was rushed to hospital, where doctors diagnosed a severe case of mumps. When Ellie checked with her mother, the family realised that she had never been vaccinated.
The Horror Of Sudden Silence
"When we found out it was mumps, I still felt very poorly but I thought I would be fine. I came home from hospital, mum came over to look after the kids and I decided to rest up and get better," recalls Ellie. Three days later, Ellie was having a long lie-in and woke up slowly. "It was so quiet, I thought everyone had gone out, so ventured downstairs to make some tea," says Ellie. Both her children were in the middle of a loud fight over a toy but, to her horror, Ellie found herself unable to hear any of it. During the night, she had become completely deaf.
The next few months were a total nightmare for the family, with repeated hospital visits. "The doctors were brilliant but there was no getting away from the fact that the mumps infection had destroyed my auditory nerves. I had developed profound sensorineural deafness in both ears", says Ellie, whose eyes still spill over with tears as she remembers the moment of diagnosis.
An Ideal Candidate For A Cochlear Implant
Luckily for Ellie, she was referred to a specialist who had been working with a team in Australia on the latest form of cochlear implants. "I was over the moon when I found out that I might be able to have a cochlear implant," says Ellie. As someone who was desperate to hear again, who had suddenly developed profound deafness very recently, and who was still able to talk and communicate well with speech, Ellie was considered an absolutely ideal candidate. She underwent her operation just two years after her mumps had robbed her of her hearing.
"I just couldn't bear the thought of never hearing my children talking to me as they grew up and I would have gladly gone through ten operations," says Ellie. With the cochlear implant in place, Ellie's hearing is not at all the same as it was before but she is learning to interpret the sounds of the world around her all over again. She has been back for various adjustments to the sensitivity control and things are improving all the time. "It's been 18 months now and my main focus is on listening to Sophie and Paul. Being able to 'hear' them again is the best ever," grins Ellie.
What Is A Cochlear Implant?
A cochlear implant, as its name suggests, is a device that is inserted into the inner ear. This is done surgically, so a cochlear implant is very different to a hearing aid, which is just worn externally to boost any sounds that can be heard. Cochlear implants aim to provide some hearing for people who have become profoundly deaf.
The principle behind the implant is that it takes over the job of the inner ear. Its microphone picks up sounds that are then processed in the internal speech and sound processor. The electrical signals generated are then sent to the brain as an electrical impulse, creating the perception of sound. Part of the device is implanted just beneath the skin above the ear and contains a magnet. An external processor that is magnetic is attached to the skin over this implant, and has controls that allow the user to adjust the sensitivity of sound reception.
Cochlear implants have been in development since the first one was approved in the USA in 1984. By 2005, the fully implantable cochlear implant had been developed – this has no external piece at all. These are not yet widely available, but will be coming through to the general medical market soon, possibly by 2010.
You might also like...
My profoundly deaf 8 year ols son has a choclear implant on his left side and just recently for reasons unknown has decided to wear implant but detach the magnet from his head. We have checked the volume and settings which appear correct. Any suggestions as to what is going on
Jacqueline
- 11-Jan-15 @ 7:26 PM