Will Gene Therapy Reverse Deafness?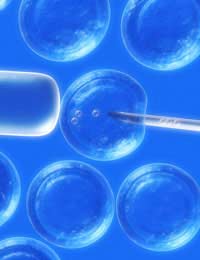 Deafness is currently irreversible if the hair cells and nerves that detect and transmit sound in the inner ear are destroyed. Stem cell treatment and new drugs are being actively researched to see if future treatments could change this and provide hope to people with hearing loss. Another possible future cure for deafness could involve gene therapy.
In the late summer of 2008, a major study was published in the scientific journal Nature showing that gene therapy to reverse deafness had come several steps closer. However, this study was done in rodents, not people, so many years of further research and testing lie ahead before this could form a medical treatment.
What Is Gene Therapy?
Gene therapy involves introducing a copy of a healthy gene into cells that either lack the gene, or that have a damaged copy. The idea is to replace the original function of the gene. Gene therapy is a controversial medical therapy that has run into great difficulties in the last few years. All human clinical studies were virtually halted ten years ago after a young 18-year old patient, Jesse Gelsinger died as a result of his gene therapy in September 1999.
How Could Gene Therapy Help Deafness?
The hair cells that detect sounds in the inner ear cannot regenerate but the cells next to them in the layer of tissue that lines the ear can. Scientists have discovered that one particular gene, called Atoh1, is the switch that stimulates ordinary ear cells to divide and develop into hair cells. The idea is to introduce a working copy of this gene into the inner ear of someone who is deaf to give them back some working hair cells, so restoring their hearing.
In the study reported in Nature, the Atoh1 gene was put into mice growing in their mother's uterus. For this reason, this kind of gene therapy is known as in utero gene therapy. Mice do not normally have human genes, so this was basically a test to see if the gene could be introduced into the inner ears of mice. Previous experiments in guinea pigs had shown that the gene could be introduced into their ears, where it worked to stimulate the growth of hair-like cells.
Examining the ears of the mice after they were born showed that the gene had been successfully introduced into their ear cells and it seemed to be working well. The hearing of the mice was normal when tested.
Critically, the mice treated with the gene therapy technique had developed many extra hair cells in their cochlea compared to mice that had not received the Atoh1 gene. The additional hair cells looked exactly like normal human hair cells and were arranged in the usual pattern. Most of them had connected up with nerve cells and were actively sending signals into the brains of the mice. It is not possible to find out whether the mice had better hearing, or whether they were hearing differently, but this was a very promising result.
Could Gene Therapy Work In Humans?
At this stage, it is impossible to predict whether this work could be extended into humans. The next step of the research is to introduce the Atoh1 gene into mice that are deaf because they lack hair cells. If the gene is able to produce hair cells in these mice and allow them to hear, then the technique might be tried in other animals and eventually in humans.
Gene therapy in people has always been difficult and other techniques that have worked well in animals have failed in people. In utero gene therapy in humans could not be done in this case. Even if the ethical issues could be overcome, deafness develops in adults and requires treatment in adults, not unborn babies. Many hurdles remain and only time till tell if gene therapy will ever reverse deafness.
You might also like...