Why do I Keep Getting Ear Pain?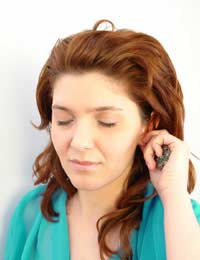 Q.I keep getting a sharp pain in my left ear. It comes and goes most weeks. I haven't had a cold and don't feel dizzy or sick when it happens. I have been to see the doctor and they have said I haven't got an ear infection but it keeps happening. He has told me to chew gum and see a dentist. What do you think it could be?
(Mrs Jackie Chatterton, 16 September 2008)

A.
Hello there, ear pain can be a very annoying and uncomfortable occurrence so where possible the cause should be determined so you can get on and enjoy life.
If your doctor has been unable to identify any growths, wax build-up, infection or foreign body in your ear then there must be another cause. Of course if you are losing fluid or can feel something in your ear it is possible that your doctor missed this diagnosis or there were no obvious abnormalities upon that particular diagnosis. In this instance I would suggest that you seek a second opinion.
If you have no further symptoms the pain may relate to other medical problems.If your jaw makes an audible 'crack' or you can feel it stiffening when you chew the chances are that you may be developing some form of arthritis. In this case your doctor may want to send you to a specialist (depending on the severity and whether it is suspected in any other joints in your body) or may recommend the use of simple anti-inflammatory medications that can be bought from the chemist. Always ask the on-duty pharmacist for the most effective form of anti-inflammatory for arthritic related pain. It may also help to increase the amount of calcium in your diet to prevent further problems with the bones and to take cod liver oil supplements to try and keep the movements of the joints fluid and smooth.
The other possible cause as your doctor suggests is a dental problem. If the ear pain appears on the same side as any dental pain it is possible that the two pains are related.Take an over the counter pain killer and see your dentist who will be able to assess for any dental changes.
It may be that the pressure caused from your wisdom teeth has affected the same pain pathways at those related to your ears. Wisdom teeth that are problematic when they break through can cause severe pain in the mouth and the ears and it is possible that only one side is growing at the moment.
I hope this advice helps and that you find not only the cause of the pain, but an effective treatment also.
You might also like...
This has been very helpful.Gis bless you!
qwuasi
- 28-Aug-12 @ 12:25 AM