The Connection Between Hearing and Speech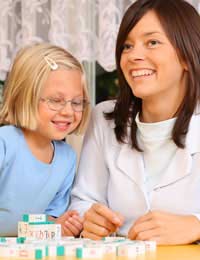 Hearing and speech are intimately connected. Someone who is born profoundly deaf has great difficulty learning to speak. It is only by listening to other people around them speak that toddlers learn how to make sounds that match up and to connect specific sounds and words with objects and actions. Although someone who loses their hearing later in life can speak reasonably well, even though they may have difficulty with setting the tone of their voice, a child who has never been able to hear needs intensive speech therapy to be able to communicate in this way.
The Impact of Hearing Sounds on Speech
As a baby hears the sounds from around him or her, and the way parents, brothers and sisters and other people speak, they learn how to tell the difference between sounds and eventually associated some sounds with definite words. By the age of 6 months a baby is already babbling – the first practice speech sounds as it tries out using its mouth, gums and jaw to copy what it hears.
Being able to hear your own speech is also very important. Without something called the auditory feedback loop, a child cannot tell what sound he or she is making, and cannot control the volume or the 'shape' of the sound. As a profoundly deaf child tries to learn to speak, sounds are often confused and the noises that are made are not recognised by others as speech that they can understand.
Sign Language and its Limitations
A child who is deaf or who has severe hearing difficulties often learns to communicate via sign language. This enables good communication between the child and other people who know sign language but not with people who want to talk. A child who learns to speak to other people has a greater chance of being able to live a fuller life and to participate in a greater range of activities and jobs.
Speech Therapy
Intensive speech therapy can be used to train children and adults who are profoundly deaf to be able to speak but this process requires long hours of commitment and practice. Digital hearing aids and, more recently, the success of cochlear implants, has made this process easier as the brain of the person trying to learn speech can be given more information about the 'sounds' made when other people speak. These devices can also help set up a partial auditory feedback loop, which can help with volume and pitch of the sounds produced during speech.
A child who is born with profound deafness needs to start intensive speech therapy during the normal stage of life that they would have developed speech. The way that the brain develops during the early years of childhood is not yet fully understood but we do realise that there is some plasticity in the brain in at least the first 5 years of life. If speech therapy is started as soon as possible, the nerve pathways in the brain that allow speech are still plastic enough to be modified. If a child is older than 8 when the process begins, learning speech is much harder and the results are not nearly as good.
Speech Therapy for Adults
Adults who lose their hearing still often need help to adjust their speaking technique. If you were to play loud music through headphones so that you could not hear the sound of your own voice, your speech would become altered straight away. Not being able to hear your own voice means that you would need to develop other strategies to work out how loud you were speaking and to focus on the way your voice moved up and down. People who become deaf lose the ability to 'remember' how to speak over time, but speech therapy can help them develop new techniques so that they can communicate well by speech. Other people may notice slight differences in their voice, but these are usually not serious enough to prevent understanding and conversation.
You might also like...