Football Clubs for the Deaf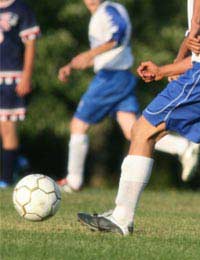 Hundreds of thousands of keen football fans follow their chosen team every Saturday during the football season, but how many of them know that there is a strong and active number of British football clubs just for deaf players? Very few, but deaf football is not a new idea. It has been around since the early 1870s. Sheffield was the first to set up an official football club for the deaf, followed eleven years later by Glasgow Athletic. Both of these teams were in existence before Rangers, Celtic – or Manchester United.
The British Deaf Football Cup
Although deaf players have been participating in football clubs for well over 100 years, the annual battle for the British Deaf Football Club has only been fought since 1959. Today, 25 official deaf football clubs compete for the trophy. In addition, there is a separate competition for English clubs for the English Deaf Football Cup and one in Scotland for the Scottish Deaf Football Cup.
Are There Professional Deaf Footballers?
Deaf football players can achieve the same level of fitness and skill as hearing footballers but they are at a disadvantage during a game. They can't hear instructions shouted by other players, the bench, or hear the whistle of the referee. Despite this, there have been deaf players who have become professional footballers in mainstream teams in the early years of football. Rodney Marsh, for example, played for Queens Park Rangers, Manchester City, Fulham and England during his career in the 1960s and 1970s. He signed with Fulham when he was 16 and it was playing in one of their matches that he was kicked in the head, sustaining an injury that left him completely deaf in one ear. His lack of hearing did not stop him moving onto QPR when he was 21 and playing for England 9 times. When he signed with Manchester City in 1972, his transfer fee of £200 000, which seems tame by today's standards, was a record breaker.
Since about 1990, no professional footballer with profound deafness has been accepted to play in the top professional teams; this probably indicates a change in competitiveness and the big business that football has become, which is a real shame. Deaf footballers are still proving that they can compete with their hearing colleagues, however. Doncaster College Deaf Football Club is in the record books for the only team to have competed in the FA National Futsal Championships (in 2005) and won. The Futsal Championship is a mainstream football competition, and the Doncaster team competed with teams with a full complement of hearing players. They also represented Great Britain in the European Futsal Cup two years later.
Football for Deaf Women
Women enjoy football and are keen to play and many think that the outdated rules about women playing in professional teams will soon be a thing of the past. The trend for women in football led to the creation of the Great Britain Deaf women football competition in 2000 and a British team has been running ever since. They competed in the Deaflympics in Taiwan in 2009.
Football and Deaf Children
Children who develop profound deafness, or who are born deaf also enjoy playing football but learning the game and the rules can be difficult in a team of hearing children. The National Deaf Children's Society has been instrumental in setting up football festivals for deaf children keen to play football and have set up a database on their website that provides information about local clubs that are for deaf children. They run special deaf awareness events for hearing teams and clubs and fund and run an annual competition. The Society also runs a scheme to train football coaches who then specialise in training deaf footballers.
You might also like...