Ear Candling for Reducing Ear Wax Build Up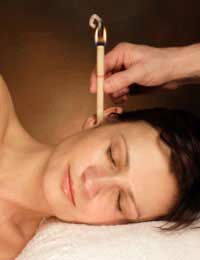 Ear candling is a traditional method of helping to reduce the build-up of wax in the ear. Although it is not recommended by any professionals in the UK it is still used in Europe, and by complementary therapists, with some ear candles continuing to pass regulatory guidelines.
What is Ear Candling?
Ear candling, usually involves laying the person on one side, followed by inserting a hollow 'candle' into the ear with the external end lit, usually using a piece of cloth, serving to help draw out the cerumen (wax). The process works by the flame creating a negative pressure encouraging the contents of the ear to be drawn out.The person is protected from heat and falling debris from the candles by the practitioner placing the candle through a paper plate which collects the materials before it can fall onto the person.
The treatment may need to be repeated if wax build-up is high, or if both ears are in need of treatment and each session can last up to 60 minutes. The practitioner may suggest the use of a few drops of warmed olive or almond oil in the ear a few days before the procedure in order to soften the wax.Practitioners charges are extremely variable with some charging upwards of £30 per session, so it is fairly expensive for a treatment that possibly has no medical benefits.
Indications For Use
Though not recommended by any conventional physician, ear candling is still big business among those offering complementary therapies.The main indications for use include wax build-up, tinnitus, infections of the outer ear, stress and headaches. It should never be offered to those with perforated ear drums, after surgery, those with prosthetic ear implants, or those with grommets.The ear should be examined for all of these conditions before the practice takes places, although the training and qualifications of the practitioner may be questionable with regards to their competence of being able to do this.
Dangers of Ear Candling
There are many concerns regarding the safety of ear candling, which has lead to its discontinuation by professionals in Britain. Potential dangers include burns and scalds from falling wax or debris, the practitioner over inserting the device into the ear causing damage or perforation to the deeper and more delicate structures of the ear and that hot dripping wax may cause blockage in the ear requiring surgical removal.As experts have also discovered that ear wax gradually works its own way out of the ear without intervention, ear candling, even when practiced as safely as possible, is considered unnecessary.
Ear candling was a very popular treatment many years ago, but medical research has proven that it has no particular benefits to the person and due to the potential for dangerous practice, it is not used as a treatment by ear health professionals. If ear candling is chosen as a treatment, it must be performed by a complementary therapist, unless travelling abroad is selected.
If you are thinking about having ear candling done, please ask your GP to check the condition of your ears first as some conditions of the ear may be undiagnosed causing added dangers when participating in ear candling.
You might also like...
Both my eardrums are perforated , I still get a build up of ear wax, wear a hearing aid on my right ear , but keep having to adjust it to suit,is there a remedy .
Matt
- 19-Apr-12 @ 12:57 PM