Myringoplasty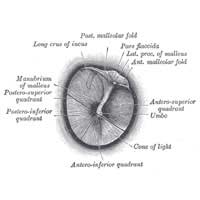 A myringoplasty is a surgical procedure indicated as a treatment option for a perforated eardrum when the perforation has failed to heal on its own. It involves using a piece of grafted skin taken from another part of the anatomy and placing and securing it over the hole.
What Causes A Perforated Ear Drum?
Perforation of the ear drum can occur following an infection of the ear where fluid and infectious material has collected causing pressure to build-up, resulting in a split or tear to the ear drum.Other possible reasons for a perforation of the eardrum include trauma following insertion of a foreign body or cleaning implement into the ear, sudden changes in atmospheric air pressures when the ear cannot equalise its own pressures quickly enough, or because of exposure to sudden and very noises.
Why Do I Need An Operation?
In most cases of eardrum perforation, the hole will simply seal itself and no long-term effects are experienced. If this does not happen however, the hole remains open, leaving the ear vulnerable to further infections, which may be potentially very serious if left untreated.
Following an infection that has been diagnosed by your GP, a follow-up appointment will often be necessary to ensure the infection has been successfully eradicated and that there is no perforation to the eardrum. If you have not had your infection treated by a doctor, or have not had your ears examined for a while, it is worth mentioning at your next appointment especially if you have suffered any of the indications listed above regarding ear drum perforation.
What Is Involved In The Operation?
Performed under a general anaesthetic, the surgeon selects the best piece of skin for the graft; this is usually taken from just above the ear itself. This area will then be stitched using either absorbable stitches that will dissolve by themselves, or with non-absorbable material that will be removed around seven days following the surgery.
Using very small instruments, the surgeon then places this graft onto the underside of the eardrum and secures it using an adhesive substance that will hold the graft in place until it has attached itself to the new surface. The ear may then be packed with some gauze soaked in anti-biotic drops used to help prevent an infection, and the whole ear is then protected using a cotton dressing.
If the operation has been successful and there have been no complications, discharge can be expected 24 to 48 hours later.Although this may sound like a tricky and very delicate procedure, the surgeons that perform this operation are very highly trained and will be confident and competent that they can carry it out.
What To Expect.
As with all operations, you will need to be starved for at least six hours before the procedure, and a visit from the anaesthetist and surgeon are common practice, during these visits, any questions should be asked and complications explored.Following the operation, expect some discomfort from the packing, along with hearing impairment whilst the dressings are in place. Pain can be controlled using prescription drugs or with paracetamol. Try not to blow your nose or allow water to enter your ears until the packing has been removed.The packing will normally be removed during a follow-up appointment around three weeks later, when the eardrum will be assessed.
A myringoplasty is an operation that is performed to seal a hole in the eardrum that has not healed by itself. It is performed by specialist surgeons and should not cause any long-term problems following the surgery.
You might also like...