I Beat Stress by Having Ear Acupuncture: A Case Study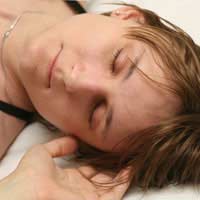 Rushing around frantically when her father was dying of cancer two years ago, all the while trying to hold down a job share as an accountant and looking after three children under 10, took its toll on Kirsten.
"I was running around a lot but I was so stressed out that sometimes I just literally walked around in circles – I couldn't decide what to do first," she remembers.
The classic methods of dealing with stress usually involve removing some of the stressors from your life but, in Kirsten's case, that was just impossible. "We are a close family and I had my sister for support, and tried to support her too and my husband was fantastic but everyone was really at a loss because we were facing the death of someone we all loved," she says.
Stress Becomes Overwhelming
With regular visits to hospital, school runs and work, Kirsten became more and more tired and burnt out and could not see any way through. "A friend of mine who is a holistic therapist said to me that the only thing I could do would be to try to deal with the stress better. It wasn't going to go away and there were going to be some really tough times ahead. She said that if I didn't start to do something to relax and beat the stress, it would end up beating me and then I wouldn't be good for anything," says Kirsten.
The thought of getting ill herself and letting down all the people who were depending on her spurred Kirsten on to find something that could help. "I tried relaxation and hypnotherapy, which were really good but I have always been fascinated by acupuncture. One day, in the hospital, I had to wait for about half an hour to see dad because he was having chemotherapy and I ended up flicking through an old magazine from about 2001," says Kirsten.
Ear Acupuncture – Could it Work?
Kirsten found herself reading an old article about Cherie Blair, wife of the then prime minister, Tony Blair. It showed a photograph of her ear, in which there was an ear acupuncture stud near the middle of her ear at the top.
The article explained that this stud was in the Shenmen, an acupuncture point in the ear that was supposed to help with relaxation and to help people cope with extreme stress. "As Cherie Blair was managing to live as the prime minister's wife, with four children and be a top flight barrister while still looking in control, I decided it would be worth a try," says Kirsten.
The First Appointment
Kirsten booked in for a session of ear acupuncture and started the next week. "At the sessions, the practioner would insert several needles into my ear, not through the ear, they just went under the surface. I did feel relaxed during the therapy and then, between sessions, I had the same sort of ear acupuncture stud that I had seen in the magazine article about Cherie Blair. It went right through the ear and had magnets at either side, so gentle pressure on the Shenmen point was there all the time", explains Kirsten.
The treatment wasn't painful and the ear stud was hardly noticeable for Kirsten after a couple of days. Over the next 6 weeks, with regular treatments, Kirsten really noticed a difference. "I still had the same pressures but I did feel calmer. I began to be able to prioritise better and rather than trying to be everything to everyone, I started to realise that I needed to spend time with my dad as I would never have the chance again. Everything else could wait," says Kirsten, quietly.
Re-establishing Priorities
Kirsten took the step of talking to her employers and asking for a six month, paid break from work. "I thought they would laugh – but they agreed to pay me for that time, at 80% of my usual salary, which meant we could manage financially and I had more time," she says.
That time was indeed precious and gave Kirsten the time she needed to spend with her dad, who passed away 16 weeks later. "Without ear acupuncture and facing up to my stress and the way it was taking over, I would have missed that time and would now be in a far worse state. I still miss my dad, but I know I don't feel as bad because I had that time for him and I got my priorities right," she says.
You might also like...