I Went Deaf After a Cold: A Case Study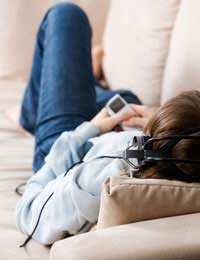 Megan loves the Jonas Brothers and plays their music every day. A few months ago, she was feeling a bit off colour with a heavy cold and spent all day in bed listening to their albums and playing the DVD of their film, Camp Rock. "My mum is always going on about having the music too loud and telling me I will end up deaf – but I listen to her a bit more seriously now," laughs Megan.
Megan's cold was not too serious and her day of music was actually a Saturday and she was back at school on the Monday. But, by Thursday, she was feeling much worse. "I think I got another cold from someone else on top of the first one – I was really feverish and got a really bad cough – and my ears felt really sore," remembers Megan.
Unfortunately, this was at the end of May and Megan's exams were looming up. She excels at languages and had speaking and listening tests and oral examinations coming up in less than a month. Megan's mum decided that she should stay at home on the Friday and try to rest and get better as she was feeling very poorly, eating hardly anything and coughing constantly.
An Ear Infection
As the weekend wore on, Megan did not really start to feel any better and her ears both became excruciatingly painful. "I was taking paracetamol and decongestants, sucking cough sweets, taking my hay fever tablets and using my asthma inhaler. I was on so much medication, it was ridiculous," says Megan. But none of them really were doing the trick and, on the Monday, Megan's mum made an appointment for her to see the local GP.
He diagnosed an ear infection – that was probably viral. But he couldn't be sure. Megan had been ill now for about 10 days, from the start of the first cold and he couldn't rule out the possibility that she had a bacterial ear infection. What was obvious was that Megan's Eustachian tubes were completely blocked by inflammation as the pressure inside her ears was actually causing her eardrums to bulge outwards.
Megan Goes Deaf
Megan's head had been feeling really muffled but when she woke up next morning, her hearing felt very strange. "All the sounds around me seemed very faint and far away – I wasn't completely deaf but I really couldn't hear very much. What really freaked me out was not being able to hear my own voice. I didn't know whether I was shouting or talking loudly," says Megan.
After a week, Megan had returned to school, feeling much better in herself, but her ears were still painful and she still couldn't hear anything. "It was a nightmare in lessons – all the teachers thought I was faking it and the boys in the class thought it was hilarious," says Megan, blushing.
More Decongestants
Another trip to the GP followed and the doctor this time recommended a more powerful decongestant and said that Megan should try putting her head over a bowl of steam twice a day to try to clear the Eustachian tubes.
"As the end of the week approached, I realised that I hadn't been able to hear properly for nearly two weeks – and that my speaking and listening exams were now only two weeks away. For the first time, I began to worry that I was going to be permanently deaf and that the music had been too loud and my mum had been right. Even she was upset," recalls Megan.
A Welcome Popping and Crackling
A few days later, bored with the steam routine and fed up with popping pills, Megan got up one morning and experienced a much nicer sort of popping. "My ears sort of crackled and then popped, like they do on an aeroplane when you swallow after descending fast. I could hear out of one ear!" she says.
For the next couple of days, Megan's ears carried on popping and crackling, but her hearing returned for longer periods and, by the day of her exams, she had no problems. "It was such a relief but I have to be careful now if I get a cold – the steam bowls and the decongestants will be top of the list – and I'm not listening to my music so loud either. I now realise just how precious my hearing is!"
You might also like...