How I Coped With Sudden Deafness: A Case Study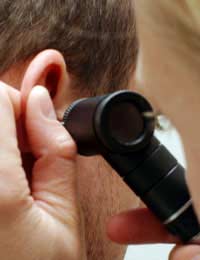 Michael speaks quite softly. "One of the main worries I have had since I became deaf is that when I speak, I may shout and frighten people – silly really – but I modulate my voice all the time to speak quietly as it makes me feel better," he says.
Michael wasn't born deaf and he didn't lose his hearing gradually. He woke up one morning to find that he could no longer hear. "It was a bizarre experience. I had been off work for two days with a bad cold and feeling really lousy – like I had flu. I went to bed early with – I must admit – a large whisky. When I woke up I felt a lot better but when I got out of bed, I felt really dizzy and fell on the floor. It took me a while to realise that I must have made a bit of a noise, but I couldn't hear anything. My wife and kids came rushing in to see if I was OK and I remember seeing their mouths moving and not being able to hear what they were saying."
Sudden Sensorineural Hearing Loss
Michael visited his GP with his wife later that day and was referred to the audiology unit of the local hospital for an emergency investigation. It was obvious that he had a virus and the consultant explained that some viruses affected the inner ear and the nerves that lead to the brain from the delicate structures there. "He said there was a good chance my hearing would come back and I should go home and rest, and see what happened – which I did.
Over the next week, Michael rested and waited. "Nothing at all happened – I felt much better in myself but I could not hear a thing," he says. When he went back for an assessment at the hospital, the doctor was less encouraging. "After a week, he said there should have been some hearing recovery, but there was none," adds Michael.
Profound Deafness Follows
Over the next few months, Michael saw about 4 different ear, nose and throat experts and all of them confirmed that he had become profoundly deaf. "I had just lost my hearing overnight – literally. I never thought that could happen and I tried to deny that it had. This was a really bad idea and it stopped me moving on for about a year," he explains.
The 12 months that followed his initial ear infection and deafness became a bit of a nightmare. Michael was continually hoping that his hearing would return, so would not do anything to try to cope with his hearing loss. This put a strain on the whole family, particularly when he finally stormed out of his job after having difficulties at work. "Fortunately, I had some inheritance money from an uncle – otherwise we would have been in real trouble," he admits.
Discovering How to Cope
"My first step to recover actually came from playing around on the computer. I found some sites that had suggestions about how to cope with becoming deaf. I thought I was the only one this had happened to – but I discovered others and began emailing them. One was a doctor – and he gave me some really good advice. Not all help has to be medical and I have found it really useful to learn to lip read – it has meant that I can talk to my wife and kids again, which was what I missed the most."Michael also installed a door bell with a flashing light display as well as a sound effect – and linked it up to his computer so it tells him when he is working that someone is at the door. "The internet has been a life saver – I started to write about my experiences and discovered that I have a flair for it. I write for all sorts of sites and magazines now – on all topics as well, not just deafness. I really enjoy it and I deal with all my clients by email – so most of them don't even know I am deaf!" laughs Michael.
You might also like...