Myringotomy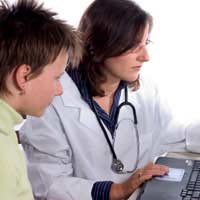 Myringotomy is a surgical procedure involving the exploration and opening of the ear drum-a structure found in the middle ear, responsible for vibrating when sound waves pass through it.
Why Do I Need An Operation?
Occasionally following a series of infections, otherwise known as glue ear, fluid can build up and collect behind the ear drum. This fluid can contain infectious material and be very thick and sticky of substance, preventing it from draining away successfully by itself. By having this incision of the eardrum, pressure should be relieved and symptoms can begin to subside whilst the infection heals.
What is Involved During the Operation?
Most people undergoing a myringotomy will undergo the procedure as a day case patient, meaning they will enter the hospital and return home on the same day. If you have other medical conditions or suffer any complications during the operation, this may necessitate an overnight stay.
Normally performed under a general anaesthetic, the surgeon, a highly trained ear specialist, will examine the ear structures using very tiny and delicate instruments. An extremely small blade or a laser is used to make a small incision into the ear drum. As this relieves the pressure caused by fluid build-up, a few moments will normally be spent clearing away the fluid and allowing it to drain. Once the surgeon is happy with his/her incision and subsequent drainage, they will often place a tiny tube-like device called a grommet into the ear drum, which allows for the small opening to remain open, preventing fluid from collecting again, or infection from developing.
What to Expect
As with any surgical operation, there are certain risks involved, especially if an anaesthetic is used. These can be thoroughly discussed during a pre-operative visit or before the operation, where the anaesthetist and surgeon will address and explain any concerns you may have. It is normal to be nervous before the operation, but it should be remembered that the people performing these procedures are highly skilled and would not carry out the procedure if they weren't confident and competent in performing it.
It will be necessary to refrain from taking any food or fluid for at least six hours prior to the operation, to prevent complications during the operation. Following the procedure, pain killers may be taken to help relieve any discomfort and you should be allowed home within four hours of waking-up providing everything has been successful and you have experienced no effects from anaesthesia.
It may be normal to experience some drainage from the ear as the fluid continues to drain and dry up. If grommets have been used, these will stay in place for around a year unless they fall out by themselves, which is completely normal. Whilst the grommets are in situ, it is best to avoid unnecessary submersion into water either when bathing or swimming.
A myringotomy is a routine and usually fairly safe and successful procedure to undergo, in fact before anti-biotics were developed, it was one of the most popular ways of treating an infection of the middle ear and was performed on many people.
You might also like...