What to Expect from Ear Surgery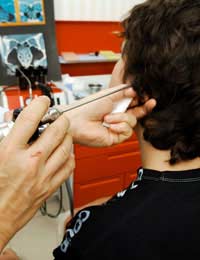 As with any operation, surgery to the ears requires a lot of thought and consideration before the decision to operate can be made.Before the operation, your doctor and anaesthetist will want to take a full medical history, carry out a full examination of the affected area and discuss all options, benefits and possible complications involved before an informed decision to give consent can be given.
Types of Surgery
Ear surgery can be undertaken as either a day patient or as an in-patient requiring an overnight stay or for slightly longer. The nature of the surgery, previous medical history and any existing medical conditions will all contribute to whether you can be operated on as a day patient or not.If you are to be an inpatient, you will often be asked to go to the hospital on the day of the operation and be admitted, checked in and seen by the doctors prior to surgery.
Many hospitals run a comprehensive pre-assessment service, which will necessitate a visit to the surgical team and nurse in advance of the operation (often some weeks ahead of your planned surgery date) when all paperwork and necessary pre-operative tests will be carried out.
Prior to Surgery
Before you have your operation, you will need to be nil by mouth for at least six hours, though different hospitals do recommend differing lengths of time for this. In order for the anaesthetic to be administered safely, the stomach should be totally empty to avoid being sick whilst asleep, which can be very dangerous.You are permitted to take a sip of water with any medications needed on the day of the operation, but if you are unsure do feel free to contact the ward and ask in advance.
Before the anaesthetic is given you will be given the opportunity to ask any last minute questions that may not have yet been addressed.Expectations of what is to be expected after surgery will often be explored at this time. Your doctor will tell you whether they expect hearing function to be restored or whether the procedure is purely to prevent it from worsening and no improvement is expected.
After your Operation
When you first wake up from your anaesthetic you may well feel very drowsy, disorientated and confused. This is totally normal and will pass as the anaesthetic agents are eliminated from your body.Nurses will monitor your blood pressure, pulse rate and blood oxygen levels throughout the recovery process and will be able to administer drugs to help control pain or nausea.Once you are fully awake and are relatively pain free you will usually be permitted to take some sips of water.
Do not be surprised if you have bandages and dressings after your surgery as these will help to reduce swelling and prevent infections from entering the surgical site.Once you are fully recovered, especially if you are a day patient, the staff will discuss what to do once you return home with regard to dressings, pain relief, comfort issues, bathing etc They will often provide pain relief to take home and will advise on how to take this medication.
Ear surgery is a delicate form of surgical procedure and will only be performed by those deemed competent to do so. These people will be highly trained and will specialise in the area of ENT or ears in particular.The nurses and medical staff will all want your operation to be successful and event free and will try and accommodate your needs where possible.
You might also like...